Arenal - COMBO - Sky Trek, Tram & River Drift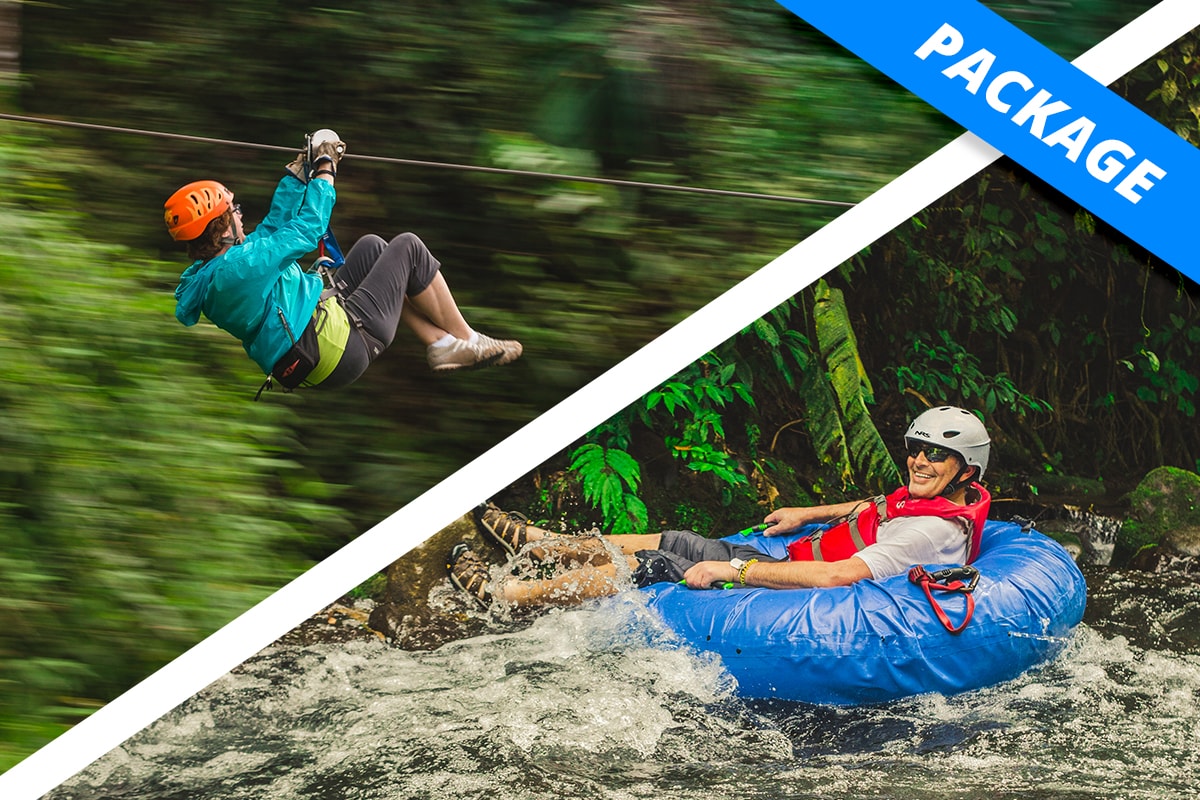 A unique experience full of adventure and excitement. Soar over the rainforest at incredible speeds, distances and heights, with views no other adventure will give you, on an unmatched zipline, where quality and safety are the pillars to an extraordinary experience like no other. Also unleash the fun drifting through the Piedras Negras serpentine river, on a personal raft. The rivers current down the mountain will make you drift and swift, and adventure that will be on top of your list of the most amusing activities in Costa Rica. The tour includes these Activities:
Sky Trek & Aerial Tram:
Sky Trek is a thrilling zip line circuit that's located in the magical forests of Arenal. Your tour will start riding an open-air gondola from the ground to the highest point of the mountain where you'll be dropped off at an observation area to admire fantastic views of the Arenal Volcano, Lake, and the surrounding forests. From this area, you will start riding down a unique zipline circuit that stretches across canyons, going from one mountain to another, and in between treetops. It truly is an exhilarating adventure of zip lining down the mountains.
At our Sky Trek in Arenal, you ride the tram up the mountain, and then get back to the base riding our thrilling ziplines, making it a perfect adventure activity with no walking segments – get off and jump on to the next cable. You'll ride 7 cables that go up to 200m (656ft) in height and 750m (2460ft) in length where you will be astounded by its impressive heights, speeds that go up to 70km/h (43.5mph), views, and because you will be able to admire the surrounding mountains like in no other place.
Sky River Drift:
Explore the mountain in a fun and very exciting way. This tour has two different activities that provide the visitor an excellent opportunity filled with emotions and sensations that will satisfy the most adventurous tourists.
The first activity you will do at Sky River Drift are 2 carbon fiber ziplines. Innovative cables that will give you an adrenaline rush
Once down, the River Drift adventure will start, traveling on an exciting tour through the Piedras Negras River. Sky River Drift is a fast water path with controlled rapids travelled on individual rafts. The thrill of being carried by the current towards the rapids and the force of inertia that dominates the raft is a mixture in which any adventurer will be satisfied in their pursuit of adrenaline and fun.