Arenal - COMBO - Sky Walk & Tram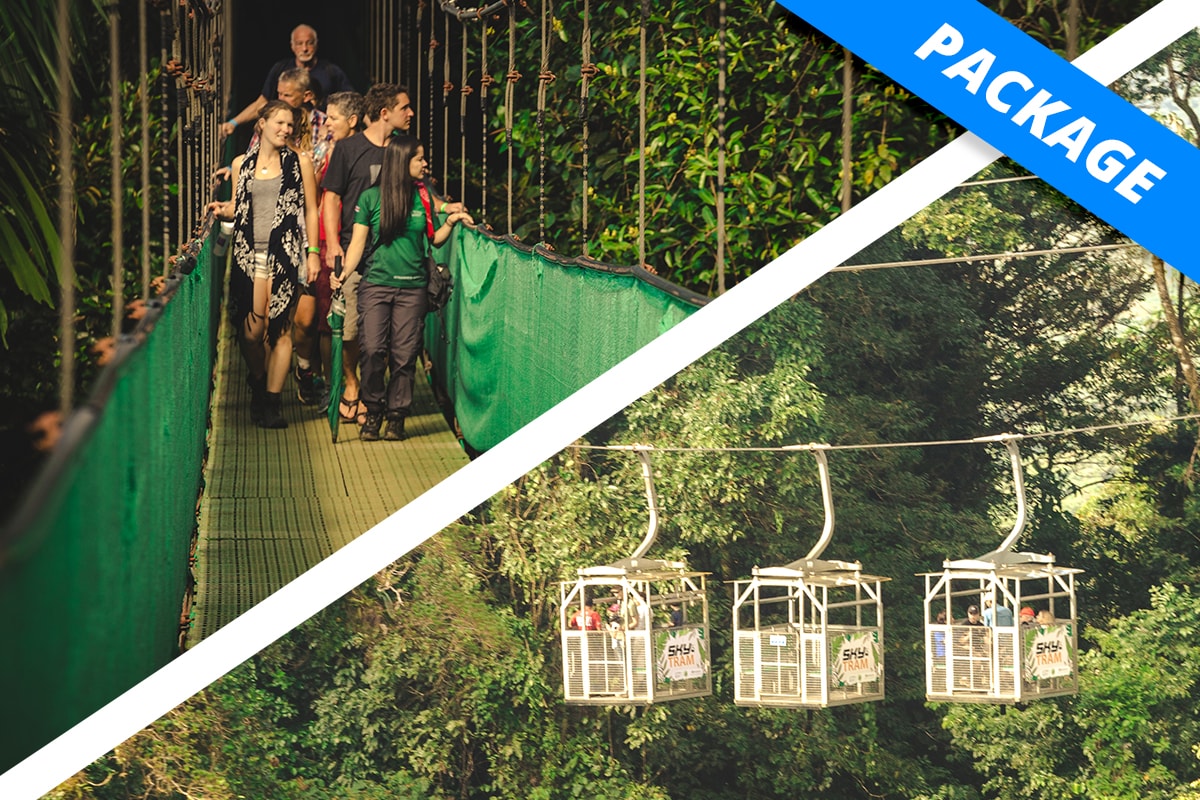 Live this expedition to explore and admire what one of the most ecologically diverse countries in the world offers. Explore the treetops with views that have no end and exclusive view points on our aerial tramway adventure. Go deep in the mountain in our hanging bridges and guided walk to keep exploring nature, this time from the ground and across hanging bridges. This exploration includes:
Sky Walk Guided Hanging Bridges Walk:
Sky Walk offers a more peaceful introduction to exploring Arenal Rain Forest on a 4km (2.5mi) trail that serpents through distinct levels of a wonderful diverse ecosystem. It combines a series of suspension bridges for a one on one experience with the flora and fauna of the forest canopy. You will hike deep into these magical tropical forests to admire nature from a distinct perspective.
Sky Tram Aerial Tramway & Viewpoints:
The Sky Tram gondolas rise smoothly through the Rain Forest, offering up endless views. This tour is perfect for people who want to take a different approach on admiring nature, and be on spot where natures exhibits all its magic. On tour, you will be attended by a bilingual guide who will point out distinctive characteristics of the flora and fauna and other interesting facts of the area. You will then arrive at a wide observation platform on the highest point of the reserve, where you can enjoy the breathtaking views of the surrounding forests, the Arenal Volcano and Lake.
Highlights
Unmatched views of the Arenal Volcano, Lake and more.
Certified Naturalist Guides will accompany you on all tours.
Discover the forest from ground and heights on dif. tours.
Exclusive viewpoint on the highest point of the mountain.
Exclusive tramway on Arenal, the best way to discover Arenal.
Hanging Bridges Trail length: 4km (2.5mi).
Hanging bridges: 4 (distances up to 143m (470), heights up to 70m (230ft)).
Discover 2 waterfalls and exclusive breathtaking viewpoints of the Arenal lake and surroundings on our hanging bridges and trails walk.