Monteverde - COMBO - Sky Trek, Tram, Walk & Herpetarium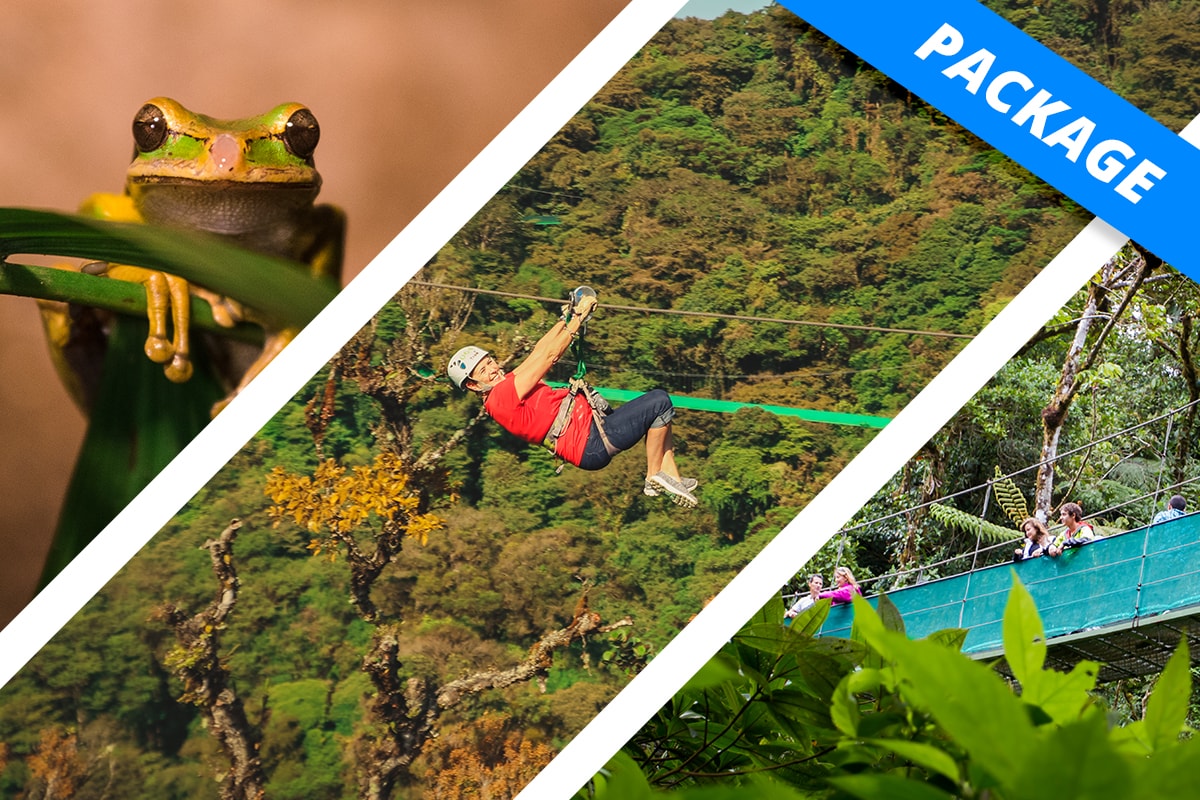 An adventure package for a full day of
experiences you won't forget. Amazing views that will leave you speechless will
accompany you throughout all adventures. You will be able to soar through the
mountains at incredible speed, heights and lengths on our unmatched ziplines;
also enjoy and explore the tropical forest of Costa Rica from a bird's eye view
on the aerial tram; and finally get to explore deeply the secrets of nature in
our guided expedition on our hanging bridges and trails. After all these open-air
activities, you can enjoy a reptile and amphibian museum at Monteverde
downtown. This package includes:

Sky Trek & Aerial Tramway:
Sky Trek is a thrilling zip line circuit that's located in the magical forests of Monteverde. Your tour will start riding an open-air gondola from the ground to the highest point of the mountain where you'll be dropped off at an observation area to admire fantastic views of the surrounding forests, the Arenal Volcano on one horizon, the gulf of Nicoya at the other. From this area, you will start riding down a unique zipline circuit that stretches across canyons, going from one mountain to another, and in between treetops. It truly is an exhilarating adventure of zip lining down the mountains.
At our Sky Trek in Monteverde, you ride the tram up the mountain, and then get back to the base riding our thrilling ziplines, making it a perfect adventure activity with no walking segments – get off and jump on to the next cable. You'll ride 8 cables that go up to 100m (328ft) in height and 750m (2460ft) in length where you will be astounded by its impressive heights, speeds that go up to 70km/h (43.5mph), views, and because you will be able to admire the surrounding mountains like in no other place.
Sky Walk Hanging Bridges Guided Walk:
Sky Walk offers a more peaceful introduction to exploring Monteverde Cloud Foreston a 2.5km (1.5mi) circuit trail that snakes through distinct levels of the wonderfully diverse ecosystem.
Sky Walk uses these trails and a series of suspension bridges for a one on one experience with the flora and fauna of the forest canopy. You will hike deep into these magical tropical forests to admire nature from a distinct perspective.
Crossing hanging bridges with complete views of the forest canopy, and from the forest floor on well-maintained paths – a naturalist guide will point out intriguing plant and animal life. Trails includes some uneven surfaces and several ascents and descents.
Herpetarium Adventures:
Visitors of Herpetarium Adventures can
admire more than 30 species of reptiles and amphibians such us native frogs,
toad, snakes and more all in naturally simulated terrariums. A bilingual guide
accompanies visitors during each tour and teaches them about the wildlife,
history, habitat, and unique characteristics of the species that are found
throughout Costa Rica. Some of the species you'll find here are the colorful
poison arrow frog, Jesus Christ lizard, boas, snapping turtles, tarantulas,
basilisk, hourglass frog, and the famous red-eyed tree frog.