Monteverde - COMBO - Sky Walk & Arboreal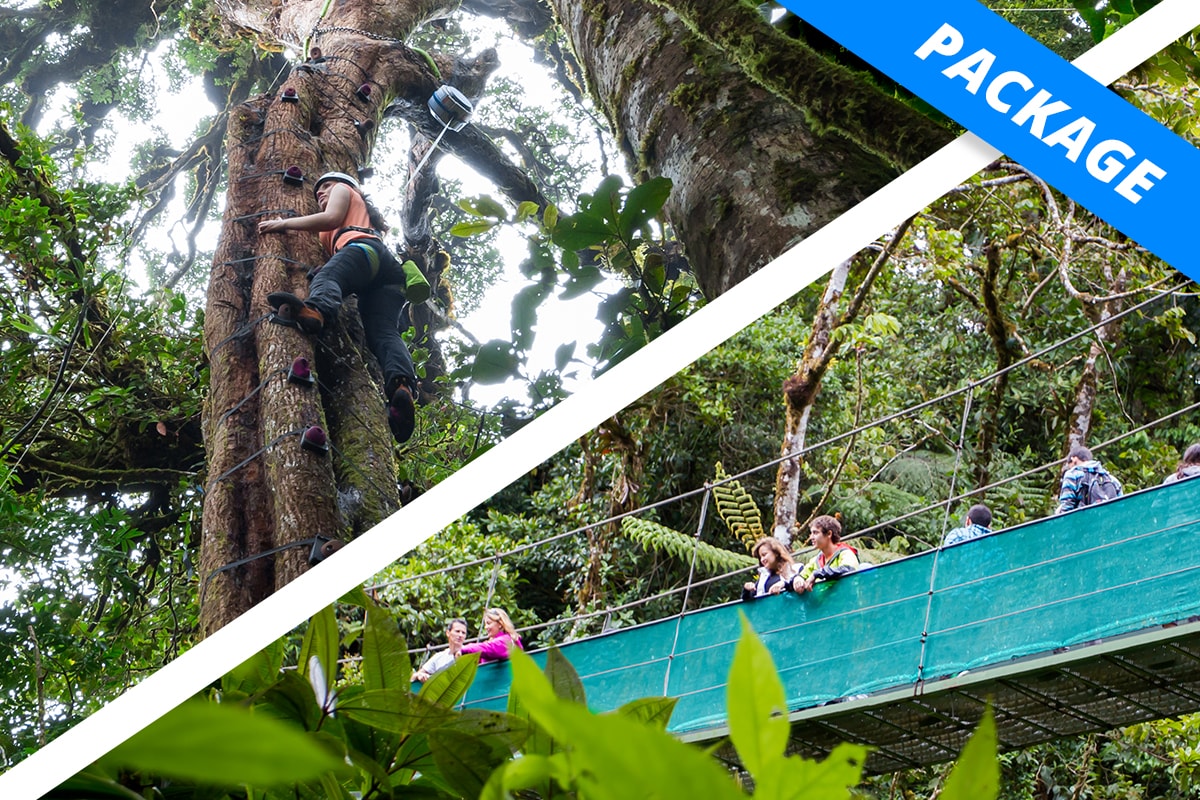 Trees will keep you admired in this nature intense package. Monteverde Cloud forest is widely known for its unique ecosystem, its widely diverse flora and fauna. You will get to explore all this greatness in two distinct forms. Walk on these reserves and explore the forest from ground and top on a guided hanging bridges and trail walk. Also discover the secret of different trees on a unique adventure that will get your body exercising and even get your adrenaline flowing, while climbing a series of trees in the cloud forest. This package include the following activities:
Sky Walk Guided Walk & Hanging Bridges:
Sky Walk offers a more peaceful introduction to exploring Monteverde Cloud Forest on a 2.5km (1.5mi) circuit trail that snakes through distinct levels of the wonderfully diverse ecosystem.
Sky Walk uses these trails and a series of suspension bridges for a one on one experience with the flora and fauna of the forest canopy. You will hike deep into these magical tropical forests to admire nature from a distinct perspective.
Crossing hanging bridges with complete views of the forest canopy, and from the forest floor on well-maintained paths – a naturalist guide will point out intriguing plant and animal life. Trails includes some uneven surfaces and several ascents and descents.
Arboreal Tree Climbing Park:
Arboreal Tree Climbing Park, is the first tree climbing park in Costa Rica. It represents not only a new adventure but a totally different way so you can enjoy nature and the rainforests of Costa Rica. Explore nature while having fun and living still an adventure. At the climbing park you will have at your disposal 4 trees, all different from each other, not only in species, but in height and also in difficulty.
The trees are equipped with handhold pieces designed for climbing but specifically adapted for trees. They are attached with straps to the trees, preventing any harm or damage to the tree, maintaining this way its full integrity. This system is also complemented with automatic belay systems, meaning, the adventurers will be attached to the unit, which is certified by the most important safety standards available. This system will prevent belay systems operated by people, and so reducing the possibility of any error.
As a climber you will climb any of our trees and once reached the top you will let go and the automatic belay system will descend you softly and safe to the ground.