Arenal - COMBO - Sky Walk & River Drift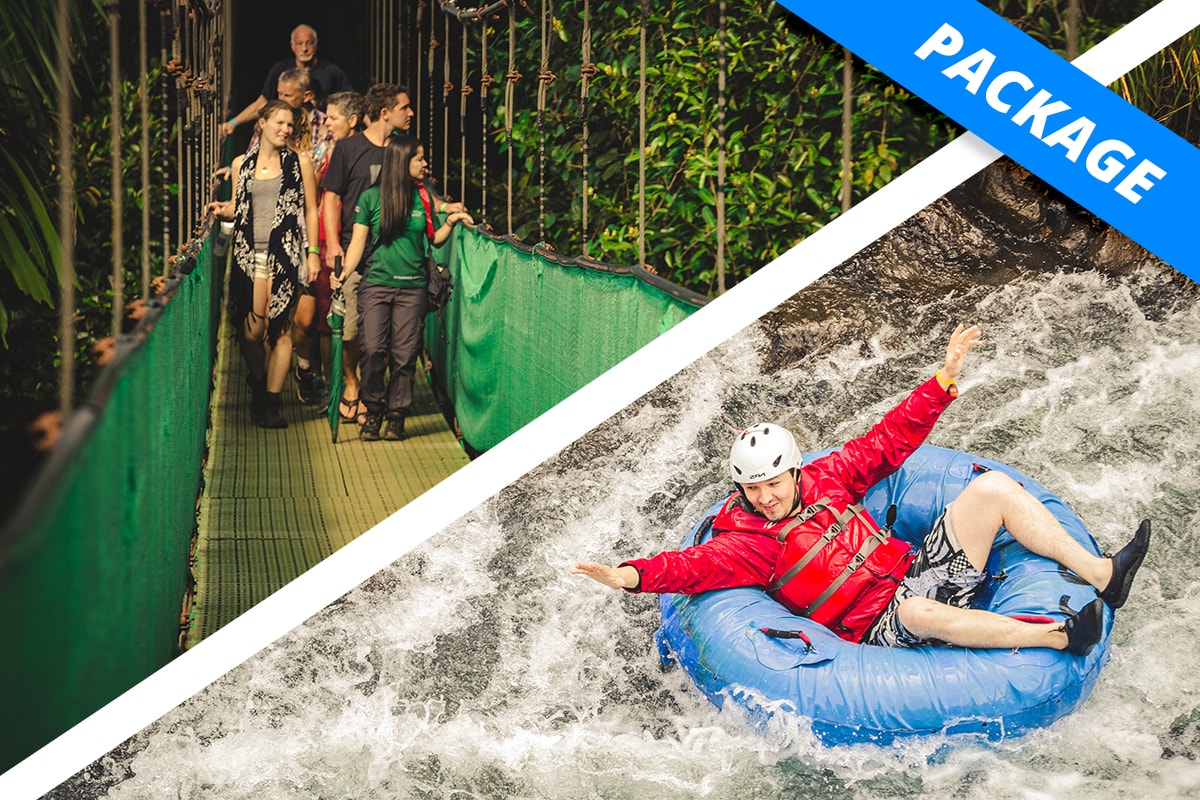 Go on an existing quest to explore nature on a complete new way. Admire the forest walking on the Arenal Volcano Rain Forest on a guided hike to discover why Costa Rica is one of the most diverse countries in the world. Explore from the ground and to the top while walking on our hanging bridges and trails. But there is more to nature on this amazing forest. Keep exploring these grounds while having the time of your life with a couple of ziplines and after that miles of rafting on a personal raft, drifting on a serpentine river within the mountains. Your adventure includes these activities:
Sky Walk Hanging Bridges and Guided Walk:
Sky Walk offers a more peaceful introduction to exploring Arenal Rain Forest on a 4km (2.5mi) circuit trail that snakes through distinct levels of the wonderfully diverse ecosystem.
Sky Walk uses these trails and a series of suspension bridges for a one on one experience with the flora and fauna of the forest canopy. You will hike deep into these magical tropical forests to admire nature from a distinct perspective.
Crossing hanging bridges with complete views of the forest canopy, and from the forest floor on well-maintained paths – a naturalist guide will point out intriguing plant and animal life. Trails includes some uneven surfaces and several ascents and descents.
Sky River Drift:
Explore the mountain in a fun and very exciting way. This tour has two different activities that provide the visitor an excellent opportunity filled with emotions and sensations that will satisfy the most adventurous tourists.
The first activity you will do at Sky River Drift are 2 carbon fiber ziplines. Innovative cables that will give you an adrenaline rush
Once down, the River Drift adventure will start, traveling on an exciting tour through the Piedras Negras River. Sky River Drift is a fast water path with controlled rapids travelled on individual rafts. The thrill of being carried by the current towards the rapids and the force of inertia that dominates the raft is a mixture in which any adventurer will be satisfied in their pursuit of adrenaline and fun.